Cavalier!
In 2000, our discussion of Cavalier Cedar Chests began in the Furniture Section; however, a very large volume of mail has dictated that we put our coverage of cedar chests onto three separate pages. This page is devoted to furniture (other than Cedar Chests) made by the Cavalier Company.
Not only that, as of October 15, 2009 we have a Facebook page: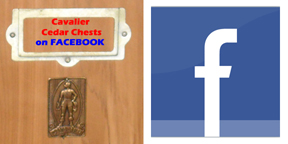 Join Us on Facebook



Here are your Choices:






Click on a Picture to Go There

In case you don't like buttons:
This is a detailed listing of the topics treated in our three Cedar Chest Pages.
In addition to Cavalier furniture, we have a Calendar of Swing Dancing in DC, a Directory of Vintage Clothing Stores and a Guide to 1940s Collectibles. Thanks for tuning in! Feel free to Contact Me if you have questions or want to share photographs, hopes, and/or stories with the rest of the readers.
Cavalier Stow-Away Chest
Here is something called a "Stowaway Chest" that was sent in by our friend Elaine
She writes:
"... The first picture is the front of the chest, the second pic is a combination pic; one of both sides (showing the detailed corners of the chest) and the bottom of the chest, and the third picture is of the interior of one of the drawers showing the Cavalier name, emblem, stowaway name, and a portion of the 6 circulation slits which is on each of the 3 drawers. The slits are 5-1/2" long and 1/4" wide. The overall size of the chest is 36" wide, 19-1/2" deep, and 30" tall. As mentioned in my first email, the chest has been painted. There is a number on the back of the chest which is difficult to make out. It could be either a 3 or four digit number....
"... As to the history of how I got this chest -- my son works for the town of Middleton and a truck from an elderly home brought the chest to the dump. He noticed the condition of the chest and the cedar interior and immediately called me to see if I wanted it. Needless to say my answer was "yes" and upon getting the chest in my home, researching the internet for info on the chest, it brought me to your web site. ..."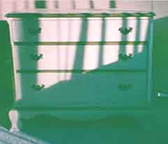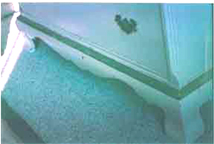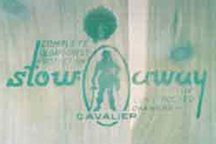 The Cavalier Stow-Away Chest
Click to Enlarge


Here are three ads for the Stowaway Chest. The one on the left was on a postcard; both front and back of the card are shown in the graphic below. The middle ad from 1942 (the darkest days of WWII) features a patriotic appeal to place the Cavalier chest in the "homes that [the GIs] are fighting for." The third (from 1945) is a full-page ad from LIFE Magazine, November 15, 1945 issue. It shows how the "Stow-Away" chest can meet the needs of space-conscious couples at the end of World War II. (There had been almost no new construction since 1929 and newlyweds were hard-pressed to find living space.)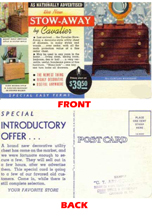 Cavalier Stow-Away Chest Advertising
left: promotional postcard
middle: full-page ad from LIFE Magazine, November 23, 1942
right: full-page ad from LIFE Magazine, November 15, 1945
Click to Enlarge


Here are some photos of a very nice Cavalier Stow-Away chest that shows Scandinavian design influence. The photos were sent in by our friend,Jess,who writes:
"... This is a Cavalier Stow-Away that belonged to my mother-in-law. Thought you might like to see them. ..."





Cavalier Scandinavian Influence Stow-Away Chest
Click to Enlarge


And, we have more of those confusing serial number markings on the back that we have never been able to decipher...
Here are some photos of a Cavalier Stow-Away that was probably made in the 1940s. They were sent in by our reader Jan who says: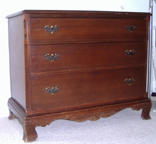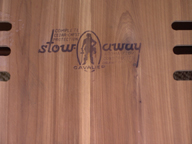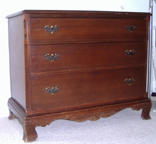 Jan's Stow-Away Cavalier Chest
Click to Enlarge


And, we have more serial number markings that are very different from the others...
"... . ..."
Cavalier Write-Away Chest
There was also a Cavalier "Write-Away" chest that doubled as a desk. From the photos, it appears that this is a "stow-Away" chest with a top that slides out to become a desk; this would have been very useful in a small apartment or a dorm room. Here is what we believe to be a very early version of the "Write-Away." It was sent to us by our reader Leslie. She writes:
"... I'm seeking info on a Cavalier dresser I bought years ago at an antique shop. I can't find one like it online ANYWHERE! I guess it would be considered a "secretary" as has 2 bottom drawers (one is cedar) and a shallower drawer on top. The middle section folds down to create a desk space with cubbies. It has the metal Cavalier tag inside the top drawer. ..."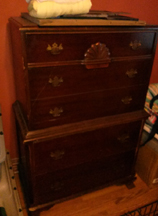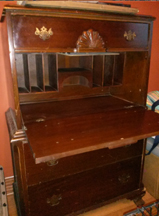 ;


A Very Early Cavalier "Write-Away"

Click to Enlarge


If there are any of you out there who have special knowledge about the "Write-Away", please send it on in !
This was sent in by our reader Melanie. She'd also like to know more about it.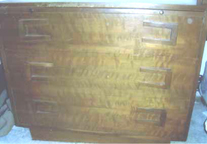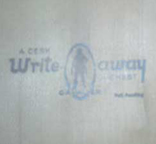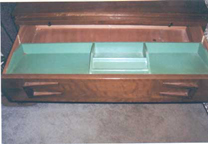 Click to Enlarge


We received a very nice letter and photos from our reader Linda: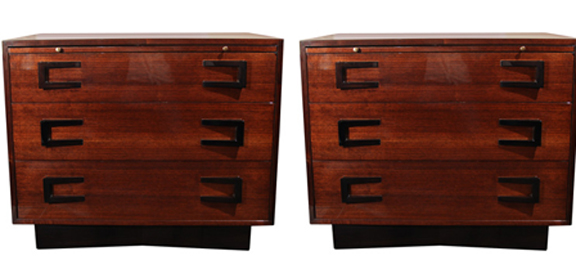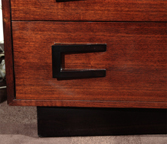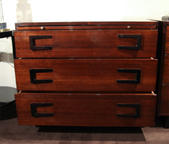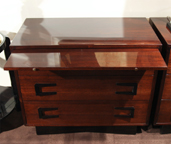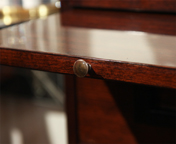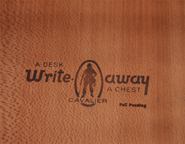 Linda's Write-Away Chest
click to Enlarge


Linda writes:
".. the "write-Away is American c. 1945 Modernist commode/desk in exotic mahogany with ebonized details and concaved ebonized bases. Each is fitted with three spacious drawers with stylized pulls, and some (but not all) feature a pull-out writing top. Current retail price for a fully restored pair [in excellent condition] could exceed $7900 [in 2009)
Measurements

height: 76.83 cm (2 ft. 6.3 in.)
length: 91.44 cm (3 ft.)
width: 48.26 cm (1 ft. 7 in.)

Hope this helps is some small way! .."
Here is another Write-Away chest that is owned by our reader John who lives in Cahttanooga -- he says "... The lady that gave this desk to me has lived here all her life and probably bought it back in the the 40s or 50s. ...". We note that this one looks a lot like the Stow-Away with the addition of the writing desk. John thinks that the chest may have been painted and then stripped.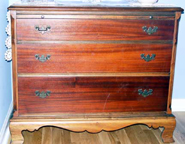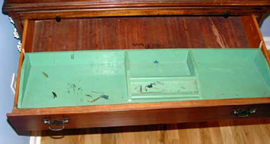 John's Cavalier Write-Away Chest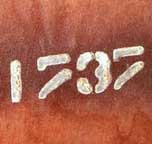 Maker's Mark and Serial Number
Click to Enlarge


Here is a Write-Away chest sent in by our friend Leslie in California. She writes:
"... I just purchased this dresser/desk from a relative for $60.00 When I found your website online I figured out that I got a fantastic deal on this wonderful piece of furniture. It was just sitting in an extra room of their home with a bunch of papers on top of it. I just thought it would be great in my daughters room because she just got a laptop and it doubles as a desk! Here are some photos. ..."






Leslie's Cavalier "Write-Away"
Click to Enlarge It


Cavalier Dress-Away Chest
Of all things, there was also a "Dress-Away" chest that had a fold-out mirror! [I hope they did not make Bathroom furniture...] We'd like to thank Bill and Laura for sending these photos in.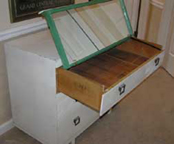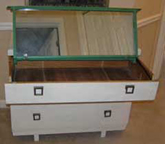 Dress-Away Chest with Mirror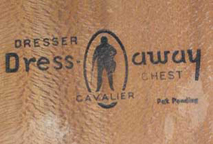 The Maker's Mark
Article on Space Saving Furniture from Popular Science March, 1948
Click to Enlarge


We got these photos of a more traditional-style "Dress-Away" from our reader Louann. She writes:
"... Hi I have always been curious about my chest. I recieved it when my grandmother passed away and was told it belonged to her sister who died in the 60ís. Last night when a friend saw it she flipped over it and started looking for a stamp of some kind and we found it inside the top drawer which gave me the name of it. I wanted to share mine with your site as I did see one other dress away chest but it was white and had different knobs on it ..."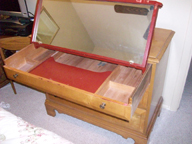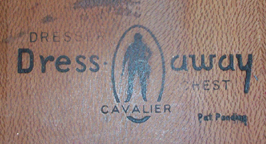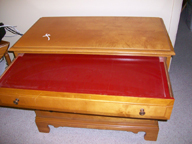 Dress-Away Chest in Traditional Style

Click to Enlarge


Cavalier Bedroom Suite
For a while, the Cavalier Company made a whole line of bedroom furniture.
Here is an early set with a four-poster bed! (It may have been from the Natchez series discussed below.) Thanks to our reader Pam, we have the following nice photos:





The Early Cavalier Bed Set
Click to Enlarge


Here is a very unusual and highly detailed table made by the Tennessee Furniture Company. It was sent by our reader Kim (from Ohio) who writes:
"...I've attached a photo of one of two end stands I recently inherited. The metal Cavalier tag is located in the drawer (pattern no. 5809). What's unique is that the end stands can be used from the front or back - the drawers pull out either way, and there's knobs on both the front and back. I've stripped the paint off of one and plan on stripping the other (when I get the gumption). I love the acorn finials too..."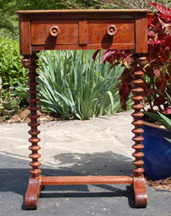 Cavalier End Table #5809
Ad from LIFE Magazine, November 20,1939
right: Ad from LIFE magazine April 24, 1939
Click to Enlarge


Kim's end table comes from the "Natchez" re-creation series that reproduced the bedroom furniture of Mrs. Balfour Miller of Hope Farm. Readers who had a hankering for this style of furniture (to "bring back the Days of the Old South" could buy the Natchez set for "less than $100." Not only that, the furniture offered a variety of "convenience features" such as a tie rack, a jewel box or a cosmetics tray.
Here is a vanity that was probably part of a bedroom set. It dates from the 1930s. This was sent in by our reader Kyle, who writes:
"... I would like to share some pictures of my Cavalier vanity that I picked up at Salvation Army for $125. The Cavalier logo is in the top right drawer, and the back of the mirror still has a paper label on it (though I couldn't read the writing). It's also very petite - only 48 inches wide and 18 tall. I haven't been able to find very much like it online, so I thought I'd contribute pictures to the collection. ..."


BR>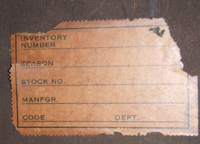 1930s Cavalier Vanity
Click to Enlarge


This is a very nice set from the mid 1950s showing the influence of Scandinavian design




Nightstand, Dresser, Headboard, Drawer with Cavalier Badge







The Vanity
Click to Enlarge


Cavalier Sideboard
Thanks to our reader Kimberly, we now know that the Tennessee Furniture Company made a sideboard with the Cavlier badge. She writes:
"... I saw your website when I was looking for Cavalier furniture and found [a sideboard] made by the Tennessee Furniture Corp. Since I was only seeing cedar chests [on the site], I thought this may be a good addition to the Cavalier pics you have ..."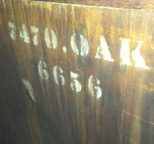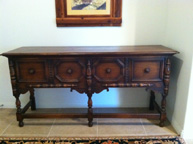 The Cavlier Sideboard
Click to Enlarge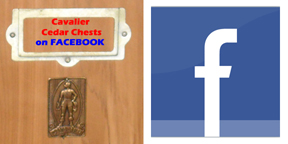 Join Us on Facebook



Counter for the Entire Site, Not Just this Page

<!- START COUNTER CODE -->