Cavalier!
In 2000, our discussion of Cavalier Cedar Chests began in the Furniture Section; however, a very large volume of mail has dictated that we put our coverage of cedar chests onto three separate pages. This page is devoted to Frequently Asked Questions about Cedar Chests.
Not only that, as of October 15, 2009 we have a Facebook page: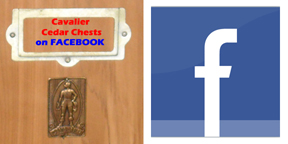 Join Us on Facebook



Here are your Choices:





Click on a Picture to Go There

In case you don't like buttons:
This is a detailed listing of the topics treated in our three Cedar Chest Pages.
In addition to Cavalier furniture, we have a Calendar of Swing Dancing in DC, a Directory of Vintage Clothing Stores and a Guide to 1940s Collectibles. Thanks for tuning in! Feel free to Contact Me if you have questions or want to share photographs, hopes, and/or stories with the rest of the readers.
Here is what the fuss is all about: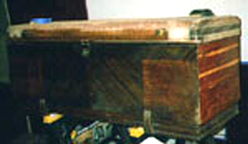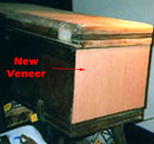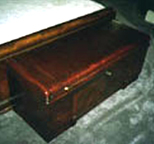 My Cedar Chest (Restored 2001)
left: Cedar Chest in "Found" condition
middle: The Veneer Repair
right: Cedar Chest as Restored to Service
Click to Enlarge


Once again, Bulk Trash day proved to be a Bonanza. I was walking through my neighborhood on the way to the market and I spotted this beauty tilted vertically against a garbage can. It was Monday and the city sanitation trucks were due any minute. I immediately RAN home, got my moving dolly and ran back. The truck was one block away. This thing is HEAVY, but I managed to get it on the dolly. With appropriate sweat and frequent rests, I was able to get the thing home, into the workshop and up on sawhorses.
Why all the fuss? Simple --- this is a Cavalier cedar chest, sort of the Cadillac, Ferrarri, Lexus or what have you of this type of item. Plus, this has --- by far -- the very best styling of any waterfall chest that I have ever seen. As you can see from the top photo, the core of the chest is SOLID laminated cedar about two inches thick. This is actually a chest made from cedar, covered with veneer. It is NOT a chest made of plywood with a cedar veneer.
Restoring the Cavalier Chest
I believe that the chest that I found had been thrown out because the veneer was completely missing from one end. There were also a number of scratches, but the piece was essentially complete. My guess is that the chest had been moved to a basement and humidity caused the glue to deteriorate and the veneer came loose. This is very common in all types of veneer furniture, especially the 1940s "Waterfall" genre of which I am so fond. This is surprisingly easy to fix!
It also helps that the chest had a shellac finish. In case you don't know, shellac is a product that is derived from the exoskeletons of a kind of beetle native to Southeast Asia. The substance dissolves in alcohol and can be applied like paint. When the alcohol evaporates, all that is left is a clear flexible film. The major problem with shellac is that it turns milky white with excessive humidity --- like when you put a cold drink glass on a table. (these "rings" are actually in the finish..., not a stain) A secondary problem is that shellac scratches VERY easily --- so easily that old 78 rpm records are made out of shellac!
The upside of shellac is that the finish can be "reamalgamated" --- that is, if you wipe the finish with alcohol, the surface will dissolve and fill in scratches. The finish of the cedar chest required a whole lot of "reamalgamation" --- approximately one gallon of denatured alcohol and several rolls of paper towels.
The veneer repair was straightforward. I spent a nice morning at Smoot Lumber in Alexandria (6295 Edsall Road, 703-823-2100) sorting through veneer samples until I found a piece of straight grain mahogny that fit in with the rest of the piece. Veneer is VERY THIN wood, like the thickness of a shirt cardboard. It can be easily worked with a sharp knife. Veneer is attached to the furniture "carcass" with Contact Cement. This type of glue is painted onto both surfaces and allowed to dry; when dry, it will not stick to anything except dry contact cement. When you bring the two surfaces together, it bonds immediately and permanently. Thus, you have to be VERY careful in aligning the two pices before you allow them to touch. The middle photo shows the new veneer in place. A sheet of veneer about two feet on each side costs about $20. If you collect Waterfall furniture, you will always have need for veneer. The edges were roughly trimmed with a sharp knife and then sandpaper was used to get a nice smooth edge.
The raw veneer received a coat of full strength shellac and then several coats of mahogany stain to match the rest of the piece. Lots of buffing and rubbing produced the final result shown in the third photo. I took the combination lock to a Wheaton Safe and Lock and they were able to deduce the combination and clean the lock. The inside cedar surfaces were lightly rubbed with synthetic steel wool to remove oxidation and liberate a wonderful cedar aroma. It is a wonderful addition! Be observant on Bulk Trash day!
We get a lot of mail about Cavalier Cedar Chests! here are the answers to some frequently asked questions:
Caring for the Finish
You need to make sure that the finish is clean and then apply a high quality funiture oil to feed the veneer. The chest is well made and should last forever, provided that the humidity doesn't get too high. Under moisture conditions, the glue will deteriorate and the veneer will loosen. Formbys makes a good line of cleaning and feeding products. Some of the pictures below show a chest from the 1930s that has, unfortunately, been given a silly taupe-grey fake "antique" finish. Until I questioned the owners and looked at the label, I thought it was from the 1950s when this type of finish was in vogue.
Restore the Cedar Smell
Periodically, you should empty the chest and gently rub the cedar lining with sythetic steel wool. This will remove oxidation and allow the fresh cedar oils to come to the surface.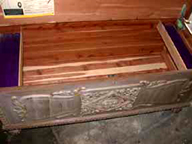 Interior of a 1930s Chest
Click to Enlarge


Most Important Things in Using the Chest
1. If you have young children, have a locksmith disable the lock so that children cannot accidentally lock themselves in. This can be done in a way that does not mar the appearance. Please understand that a child could indeed suffocate inside the chest because it has seals to keep air from getting inside. Temper your privacy with caution.
2. Don't slam the lid.
Unique Features of Cavalier Chests
First of all, there is the Cavlier "Brand" -- this usally takes the form of a brass figure of a Cavalier in the court of Charles IX --- although later versions had the mark woodburned into the cedar.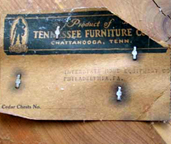 Varieties of Cavalier Identification Marks
left two: paper label from the 1920s
middle: Brass Medalion from the 1930s and 1940s
right: Woodburned marker from the 1950s
Click to Enlarge


Our reader John found a piece of Cavalier furniture from the 1950s that had a cloth label, as shown below: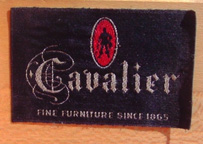 Cloth Label on a 1950s Piece
Click to Enlarge



John also writes:

"... I did find a paper label on the bottom of the chest of drawers...label had this printed on it:


NOV. (? last letter under staple) BRN. MAH.
PATTERN # 6238
RUN # 5438


..."

In mint condition, there is a paper label inside the lid; the central design has an oval inset with a man dressed as a Cavalier. The label lists sveral reasons why you get the best when you buy the Cavalier Cedar Chest. Here is one of various labels from the 1930s, so identified by the typography as well as the hair and dress styles of the lady that is pictured.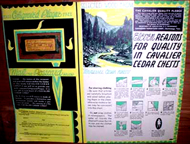 Cavalier Cedar Chest Inner Label
left: 1930s middle: early 1940s right: late 1940s and 1950s
Click to Enlarge


Here are labels from another very early Cavalier Chest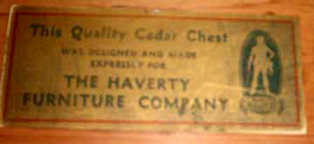 Cavalier Cedar Chest labels from the 1930s
Note that the furniture store added its own label
Click to Enlarge


There was also a "Presentation Plaque" available. It slid into a little holder in the chest. It usually memorialized the gift of the Hope Chest to a daughter from Loving Parents. Add 10% to the value if you have the label and a suitably sentimental plaque. One of our readers kindly sent us a scan of the Cavalier brochure describing the chest and the plaque. Click here to download a ".pdf" of the brochure.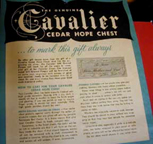 The Cavalier Presentation Plaque

Click to Enlarge


We note that two varieties of the plaque were available -- a "civilian" version suitable for gifts by parents or relatives and "service" version that was suitable for a husband or boyfriend who was serving in the military. Cavalier never missed an opportunity to tug at a heartstring.
In addition to the various Cavalier marks and paper inserts, other entities got into the action. This photo came from our reader Kathy and shows an endorsement from the "National Association of Cedar Chest Manufacturers", an organization that was active in the 1920s, quite consistent with Kathy's 1920s traditional cedar chest.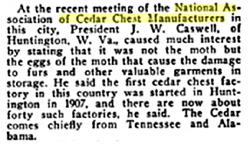 National Association of Cedar Chest Manufacturers
Left: Kathy's Traditional Cedar Chest
Middle: National Association Woodburned Mark
right: Excerpt from the New York Lumber Trade Journal,1923
Click to Enlarge


What is the Purpose of a Cedar Chest?
Basically, the chest provides a place to store fabric articles so that moths won't get at them. However, the marriage-related themes on the paper labels indicate that most of these were used as a "Hope Chest." Typically, this would be a gift from parents to a young lady on or about her 14th birthday (or so). The young lady then began a quaint ritual of assembling items for her dream home and storing them in this chest. This would include works of knitting, embroidery and/or crochet, to be augmented by occasional silver place settings given on birthdays and holidays. When young ladies of the period gathered, items from the hope chest would be retrieved one-by-one and set the stage for grave and serious discussion of the idyllic home life to come. These dreams were embodied in the following advertisement placed in LIFE Magazine.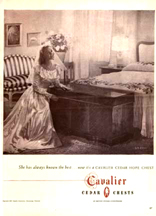 Ad For Cavalier Hope Chests
LIFE Magazine, November 24, 1947 p. 87
Cavalier Ads are not very common-- the Chests Sold by Word of Mouth
Click to Enlarge


I do not believe that young ladies do much of this any more. This practice created an unusual situation for historians and other people who must reconstruct every day life in the past -- most "typical" homes contained objects that reflected an eclectic taste over the 4-10 year period that young women may have been assembling their "Hope Chest." Thus, you will not find a pictures of a home, say in 1947, with every item from that year. Period films often fail to recognize the fact of the 10 year collection of artifacts, and often appear as if the homeowner went out and bought everything in the house the day before the scene was shot. If you want a retro lifestyle, you have to take this into account. Also, appliances like toasters, coffee makers and radios were very expensive relative to people's income. Hence, they hung onto them for a long time, even after they went out of fashion. In fact, the expense of the cedar chest is the reason that so many of them are around today!
Cedar Chest Advertising and Promotional Gifts
There were lots of other people manufacturing "Hope Chests" -- here are some of their ads. Note that they, too rely on Graduation, Weddings, and major holidays as a theme. During peacetime (June 1941 and 1951) they espouse rosy hopes for the future.






Ads From Cavalier and Their Competitors from 1941 and 1951
left three ads from 1941, right two from 1951
Click to Enlarge


Here are ads published by Cavalier and Lane in 1943 and 1944 that have military themes. Of note, the Lane ad suggests that the Marines on Guadalcanal might have been dreaming about a cedar chest. Certainly a nice sentiment for the home front, but not very realistic...





Cedar Chests With Military Themes
After months of mud, flies and Japs, the Marine gets to dream about a Cedar Chest
Click to Enlarge


This was serious business in the 1930s through the 1950s. Women only got to choose a few things in those days. Even though the choices might be towels, doilies and silver patterns, they were made with great care and with significant investment of emotional energy. The hope chest was thoroughly saturated in romance, something that the ad agencies did not overlook:


&nbsp




Cedar Chests have always been for Sweethearts
Romance as a big part of cedar chest advertising
left to right: 1938,1939,1947,1948,1949
Click to Enlarge


Because the hope chest was so personal, ads rarely used celebrity endorsements. Here is a 1951 ad from Lane that uses Yolanda Betzbeze, the reigning Miss America as a spokesperson.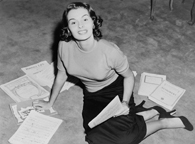 Endorsed by Miss America 1951
Ms Betbeze was an unusual beauty pageant winner
Click to Enlarge


Yolanda Betbeze entered the Miss Alabama pageant for the scholarship opportunities. Having been educated in a convent school, she was reluctant to pose in a swimsuit and refused to do so after she won the 1951 Miss America title. Promptly,the swim suit company, Catalina, withdrew their sponsorship of the Miss America pageant. This eventually brought about the creation of the rival Miss USA pageant. The Miss America Organization has claimed that Betbeze's actions were pivotal in directing pageant progress towards recognizing intellect, values, and leadership abilities, rather than focusing on beauty alone. From then on the Miss America pageant concentrated more on scholarship than beauty.
Other marketing tactics were used as well:


Cavalier Cedar Chest Promotional Gift Plate
Made by Homer Laughlin
Click to Enlarge


You are, indeed a true Cavalier Collector if you have one of the se promotional plates given out by Cavalier dealers.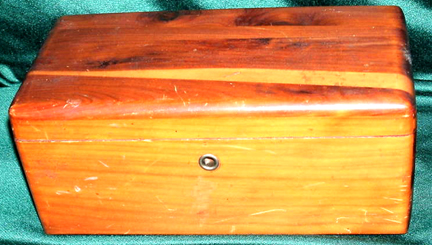 Lane Promotional Miniature Cedar Chest
Click to Enlarge


Above is a small promotional cedar chest from the Lane Company. On the inside of the chest, a carved message notes that the manufacturer was "Lane" but also gives the name of the furniture retailer. The lock actually works. The sticker indicates that the "real thing" has a lot more features than the sample. These small promotional items have become quite collectable and are used as jewelry boxes.
What is a Cavalier Chest Worth?
Our lawyer reminds us that the monetary value of any object can only be determined in a fair auction with willing and knowledgeable buyers. We neither buy nor sell Cavalier chests and the information on this page is our best opinion given the facts. It is impossible to give a specific appraisal of any object without actually touching it. We do not give appraisals and do not represent ourselves as being qualified to do so.
I have seen Waterfall Cavalier chests from the 1930s in good to excellent condition go for $500. Chests from the 1950s are worth a bit less. Here is an unusual 1930s chest with some minor damage in a not-so-attractive and definitely not authentic grey tone stain that was popular as "driftwood" in the 1950s. I questioned the owner and found out the original finish is very dark indicating that it may be a VERY Early Cavalier. (Be warned, however, that Cavalier offered a "Limed Oak" finish which has a grey appearance (like Driftwood) -- so don't rush to refinish your grey Cavalier chests.) If this was truly NOT the original "limed oak" , a nice refinish and repair job wpould greatly enhance the value of this particular chest. I wish that something was left of the records of the Cavalier Co. so that I could accurately assign a date to this piece and to help you separate refinished pieces from actual Limed Oak piceces.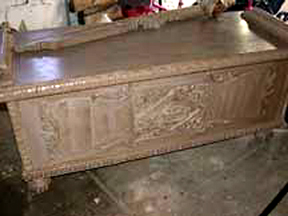 Possible 1930s Cavalier Cedar Chest
Click to Enlarge


In the early 1930s, furniture makers were very reluctant to move into the new Style Moderne or "Waterfall" genre, which was associated with cities, immigrants, and avant garde thinking. Much of the "Colonial" furniture in vogue at the time was Jacobean in origin; this style is more traditional, deriving from early New England pieces. No doubt that some of the Pilgrims packed their belongings in Jacobean chests that may have been cheap in Plymouth, being about 50 years old in 1620. In Colonial restorations like Sturbridge Village, they will note that the original chests didn't have legs and that when colonists prospered they added the legs so that you could dust under them. Sometimes, you can see applied decorations on the side that cover the holes where rope handles were attached to heft the things into the ships.
Many individuals who craved social mobility (and, possibly to hide an immigrant heritage) sought to furnish their homes in things that looked like they may have come over on the Mayflower... Of all things, here is a maple Cavalier chest that actually has a carving of The Mayflower on it! This is the very "un-subtle" approach to creating an "heritage"...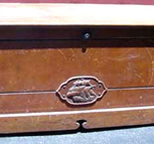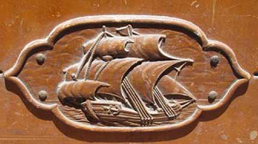 The "Mayflower" Chest
Click to Enlarge


Here is a fairly early Cavalier Chest in the Jacobean style that is in marvelous condition. Carol, a reader from Virginia writes:
" ...My 92 year old mother-in-law married in 1933 and this was her hope chest. I don't know what year she received it. She lived in NJ at the time.. I personally thought it was too ornate for my tastes, but I love that it has been with her most of her life and hope to keep it in our home as it is a sturdy piece ..."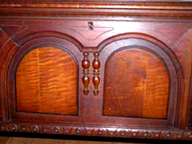 Carol's Jacobean Cesar Chest

Click to Enlarge


In the 1920s, the social elite was proud of their colonial ancestors and antique furniture. All of this association with Colonial America was very reassuring to people in the prosperous times of the 1920s because it signalled that they were advancing in the social hierarchy. The elite collected Old Masters. If you couldn't get into the elite due to race, religion or ethnicity, history had no use. Those folks had to depend on the Future and hence, Modern Art, Modern Furniture, etc. Mies Van der Rohe who was associated with the Communist-inspired Bauhaus in Germany, said "Less is More." Gertrude Stein and Solomon Guggenheim collected the works of the Cubists while Hollywood embraced radical architects like Richard Neutra, all of whom were embracing "simplicity".
Of course, it turned out that "modern" furniture could be made "cheaper" and was "less expensive to maintain" so corporate America also developed an interest in modernism. By the 1960s, the only people who could afford Mies' "Barcelona Chair" were corporate titans like IBM (the original having been designed as an example of the Workers' Paradise in 1923!).
The trend in value (as opposed to history) is definitely for the Waterfall chests. Personally, I think that Jacobean is clumsy, but then I do a website devoted to style moderne furniture. However, historically speaking, this is a significant piece and is probably of much better quality than its waterfall cousins. If you have such an item, fix it up, keep it and wait for trends to change. It is a marvelous cedar chest of quality that you really can't buy today. Maybe this would bring $50-$75 in this condition.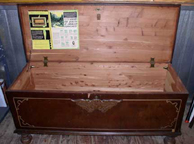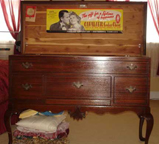 Traditional (non-Modern) Cavalier Cedar Chests
left: Aunt Evey's Cavalier Chest in the Jacobean style
right: Frank's Queen Anne Style Cavalier Chest
Click to Enlarge


Our reader Arthur sent us this picture of his Aunt Evey's Hope Chest which she got for her 16th birthday; it is also in the Jacobean style. Our reader Frank sent us this picture of a VERY well-preserved Cavalier Chest in the Queen Anne style. The characteristic "Cabriolet Legs" (they look like they have knees..) and the Shell motif in the center are the hallmarks of this style.
You can buy a Cavalier chest in excellent condition for somewhere in the neighborhood of $500 (depending on style). Vastly inferior new cedar chests cost even more. If you choose to have your chest restored by a professional, any expenditure over $500 is most likely based on sentiment, not investment value.
Fixing Minor Scratches
Get an old wool sock. Cut off the toe about halfway. Then cut the rest into little strips; get a piece of clean muslin and wrap the strips very tightly in it, until you have a thing about the size of a golf ball. Soak this in alcohol and then add just a bit of shellac. Put the "ball" inside the "toe" of the sock and whack it on a board until the "toe" part is wet. Rub this in a figure-8 motion --- very quickly --- across the surface. The alcohol will dissolve the shellac and the slightly abraisive wool will "reamalgamate" the finish. This is called "French Polishing" --- although classic use of the term involves a whole lot more steps.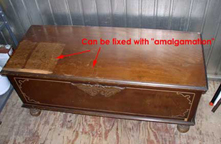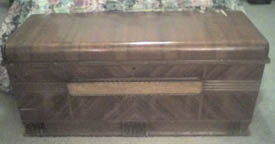 Good Candidates for Amalgamation
Click to Enlarge


Fixing Veneer Damage
Fear not -- the Cavalier Chest is so well built that almost anything can be fixed. In many cases, we can give you some helpful advice, but you'll have to send us a description of what's wrong with the veneer. Some pictures would be VERY helpful!
Here are some common problems with veneer:
Bubbles: there is what appears to be a "lump" in the veneer. This is caused by a localized loosening of the glue which allows moisture from humidity to swell the veneer. This is fixed by making a "slit", injecting glue with a hypodermic-like tool and clamping
Deep scratches: often, deep scratches can be completely removed by the "amalgamating" technique described above
Fringe: if the chest has been stored in a humid basement, the veneer may start to deteriorate on the lower edges --- the veneer comes to resemble "fringe" A small patch can be grafted on
Holes, dents, cigarette burns: it is also possible to patch small defects. Professionals use a punch of irregular shape (it looks like an amoeba); the patch is placed on the defect, aligned to match the grain, and then both are hit with the punch, simultaneously cutting the existing veneer and the patch. The patch is glued into its matching hole
Large areas: existing veneer is stripped off, the substrate is sanded smooth and new veneer is applied with contact cement. This is illustrated above AND in our step-by step restoration of the RadioBar
Substrate problems: the substrate is the layer below the veneer. This type of repair can be a LOT more complicated than veneer because you are dealing with the actual load-bearing structure of the piece. We faced some problems of this sort in restoring the RadioBar.
Here are some examples to the kind of defects that can be repaired by the average homeowner: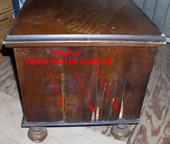 Places Where Veneer repair is Needed
left: fringing right: patching
Click to Enlarge


After your veneer has been patched, you have to match the original color and finish. These techniques are illustrated on the RadioBar Page.
Here are ads from 1948 and 1949 -- they appeared a year apart in the November 10, 1948 issue of LIFE Magazine and the November 12, 1949 issue of Saturday Evening Post, respectively. From what I can see, the Cavalier Corporation advertised once a year generally at the beginning of the Christmas shopping season. All the ads I have are from early November.


An Unusual Veneer Treatment on the Cedar Chests
Continuing the theme of Eventual Marriage
Click to Enlarge


Did Cavalier Make Painted Chests?
As far as I know, Cavalier chests were by definition veneered. That is, the attraction is the solid Tennessee red cedar core. The thin veneer layer was intended to fit the piece into various furniture decorating styles. I know of NO Cavalier pieces that were sold with a painted finish.
In order to get the paint off, avoid strippers at all cost. Let's look at the layers on a chest that has been painted:
(Bottom) Red Cedar Core
Glue
Veneer
Shellac (2-3 coats)
(Top) Paint
The paint is sticking to the shellac, not the veneer. So, the idea is to dislodge the shellac from the veneer, taking the top layer of paint along with it. Shellac dissolves in alcohol but alcohol won't dissolve the glue that holds the veneer. So, to get the paint, target the shellac. NEVER NEVER NEVER use paint stripper -- it will dissolve the glue and loosen the veneer!
If you are VERY patient, buy two gallons of denatured alcohol and a LOT of paper towels. Find a place on the paint that isn't very visible -- say, at the bottom -- and VERY carefully scrape away the paint with a razor blade, (like "shaving" it..) until you get a patch about 1/2 inch square. Then apply denatured alcohol as applied to a "pad" made of folded paper towel. This will dissolve the shellac in the immediate area of the little patch. You can use a plastic scraper to push back the paint that will crinkle up. Repeat lots of times and you'll have a clean piece (THIS IS A LOT OF WORK AND TAKES A LOT OF TIME). You will have to apply a tone stain to correct the veneer color, but the method will reveal any veneer effects, like bookmatching and contrasting colors. You may also find that you have some veneer repairs to do.
With patience, you will have a very nice Cavalier chest.
Fixing the Locks
In MANY cases, you'll find that the lock has been permanently disabled. This is because the Young Bride became a Mom and found that her kids could easlily lock themselves inside the chest. If you have kids, consider this fair warning...
If you want to restore or replace the lock, there is a very bright ray of hope: the locks were very simple and are still widely available and common furniture locks. If you need a key, any locksmith can make you one. If you need to learn the combination, any locksmith can find that out for you. In general, it is best to remove the lock (4 screws) and then bring it to the locksmith. If you ask him/her to come to your house, it will probably cost you $75. Even if you can't get the chest open, it is cheaper to bring the chest to the locksmith than vice versa.
The Tennessee Furniture Company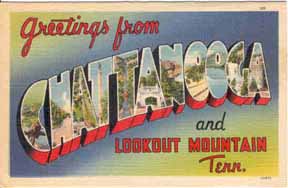 The company was founded in 1865 in Chattanooga, Tennessee and was ideally located due to the proximity of high quality hardwoods, skilled labor and rail connections and the very special Tennessee Red Cedar. The original name was The Tennessee Furniture Company, but the trademark Cavalier was first used in 1923; the trade mark application was made in 1924.


Trademark Registration for the name "Cavalier"
No Cavalier Chests before 1923
From the US Patent and Trademark Website
Click to Enlarge


The Company also made refrigerators (actually wooden iceboxes) and coolers. The name Cavalier seems to have been restricted to Cedar Chests and Iceboxes.
Thanks to our reader, ,here are some photos of one of the Cavalier Brand Ice Boxes




Cavalier Ice Box

Click to Enlarge


Here is an example of one of their famous personal beverage coolers. The outside was made of metal, there was a wood frame and the inside was lined with galvanized metal.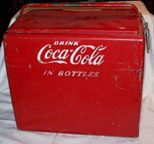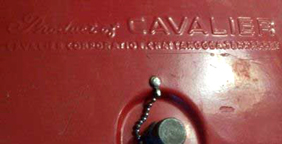 Cavalier Personal Beverage Coolers

Click to Enlarge


During the Depression (1935), the company started a second line of business making soft drink vending machines. Not only did they make wonderful cedar chests, they also made all the classic Coca Cola vending machines that are so eminently collectible today.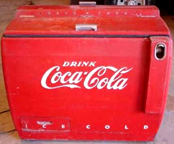 General Appearance of a Cavalier Coke machine
Design Patent D-110,473
This Cooler is probably from the 1940s
Click to Enlarge


Our Fan Lynn found these photos of the Tennessee Furniture Company. They range from 1937 to 1963.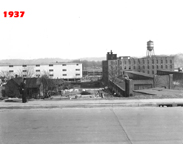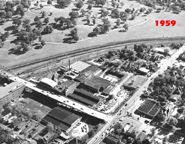 The Tennessee Furniture Company 1937-1963
Click to Enlarge


The company went through lots of hands, including the Seeburg Company manufacturers of jukeboxes See our Jukebox Page for more on the Seeburg Company. Seeburg, in turn was the subject of a number of takeovers, court actions, lootings, and bankruptcies. As a last-ditch effort to save the jobs, the company was sold to its employees in the 1990s,. If went out of business for good in 2000. All the records were trashed long ago and that's why it is so hard to decode serial numbers
There is some sociological meaning in all of this: The Cavalier Cedar Chest is a mirror of American business history. We used to manufacture wonderful things that lasted forever. Now all we produce are lawsuits and corrupt corporate officials; the manufacturing is left to far-away dictatorships.
What Do the Serial Numbers Mean?
Nobody knows for sure what the cryptic numbers on the bottom of the chest actually mean. The factory closed nearly 50 years ago and there were a lot of corporate takeovers that resulted in mass destruction of records. From my correspondence and about 8 years of collecting pictures from my readers, this is my "guess":
Serial numbers were generally of this general form:
ddd - aaayyxx
"ddd" refers to a "style"
aaa (3 letters) refers to the finish
yy is year
xx nobody knows -- could be day of the year (Jan 1 = 1, Dec 31 = 365), but it could be "week"
There just isn't enough data to completely decode these things. BUT, if we had a serial number that looked like:



Example # 1 of Serial Numbers
left: Serial Number right: chest bearing this serial number
Click to Enlarge


That said, the particular chest is most likely "Style 125", Walnut finish, made in 1932, either March 5 or (more likely) sometime in early October (35th week)
THERE ARE APPARENTLY EXCEPTIONS!



Waterfall (Moderne) and Traditional Cedar Chests
Top: 48 WAL TENN. Bottom: Chest Pattern no. 711, and Serial no. 3994
Click to Enlarge


Here are photos of two more Cavalier Chests, sent in by our friend, JoAnn. She writes:
"... These two Cavalier Chests were given to me back in the early 50's. One of the chests still has the key and it works. Underneath the chest it says: 48 WAL TENN. I assume the 48 means 1948. The other one has written on it: Chest pattern no. 711, and Serial no. 3994. ..."
Here is another form of Serial number, this time for a mahogany ("MAH") chest:



Yet another Serial Number
7610 MAH 2512
Click to Enlarge


Here is another Cavalier Chest -- this one with serial number "2747384" (not shown in the picture..), sent to us by reader John, who professses to be a "New Age Redneck."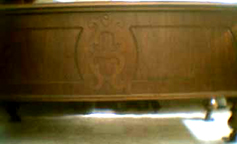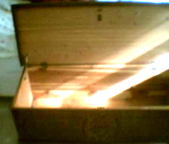 And... another variant
Serial Number 2747384
Click to Enlarge


And, here is yet another type of serial number, this one sent in by Chris. His chest had an electric clock built into the lid, so maybe "Type 6" refers to the presence of the clock: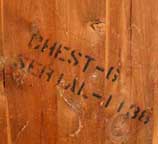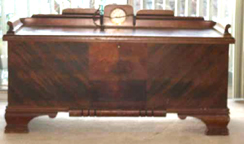 Yet another Variant
Serial Number: Chest 6 Serial 1136
Click to Enlarge


With all those corporate reorganizations, it is very likely that the company might have switched its method for assigning serial numbers --- several times.
Since there are so many different variations, it is also entirely possible that the facrory (in Chattanooga) didn't put any numbers on the chest at all -- and that the numbers were added later by the retailer.
The upshot is that we cannot give you any reliable way of decoding the serial number. Until a salesman's manual turns up, we'll all have to be content with this uncertainty.
The $23,000 Cavalier Chest
We got this from Sean, a reader from Ohio:
Cedar Chest Sells for $23,000
Columbus, Ohio -After an intense bidding war, a 1930s cedar chest, which normally sells for approximately $300, brought the astounding winning bid of $23,000 during an estate auction in June.
The estate belonged to Tillie E. Coleman, a local aficionado of antiques and collectibles who had attended auctions during much of her adult life. The auction, conducted by Mike Brandly, CAI of Columbus, drew over 400 bidders from four states.



1938 Magazine Ad for Cavalier
Click to Enlarge


The bidding war began when two 1930s cedar chest produced by Cavalier reached the auction block. After receiving an opening bid of $75, two bidders, both friends of Coleman, began competing for one of the chests, eventually driving the price to $23,000.
Neither chest was "terribly uncommon," Brandly said. "They sell normally anywhere from $150 to $300."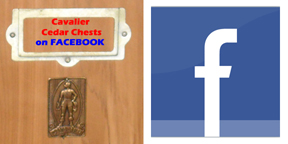 Join Us on Facebook



Counter for the Entire Site, Not Just this Page

<!- START COUNTER CODE -->